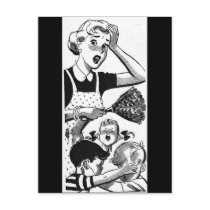 As I delve a bit deeper into this blog world, I am impressed with the other blogging Mamas I come in contact with. They keep organic gardens, sew their children's clothes, homeschool, work, write, network, knit, volunteer with various organizations, always have a gourmet meal prepared for dinner and look like supermodels. Right?
It is so very important to understand that no one really has it all together. Everyone has those days when nothing you need to do seems to get accomplished, the kids are horrific and you just want to bury yourself back in bed and never come out again (unless someone coaxes you out with chocolate).
Blogs, facebook statuses and tweets are all snapshots. Anyone can frame a picture to look amazing, even in the midst of a mess. Sometimes we need that frame to see the beauty in daily life (and be thankful). But sometimes it is important to acknowledge that yes, this is a disaster and I'm not sure how to claw my way out of it.
Last week on my facebook, spurred by a status I put up about getting things accomplished while on the phone, something great happened. A bunch of my friends decided to be authentic about their lives...and it was truly a bonding experience. One by one we admitted - I haven't had a shower today, I have no idea what to make for dinner, my laundry is a mountain range, I'm still in pajamas and other such truths that all of us can relate to at one point or another. And guess what? It made me feel GREAT.
What if we took time to admit to one another that we don't have it all together. What then? Would it be possible for the anxiety and perfectionism that so plagues parenthood to lessen a bit?
It is with that in mind that I'm introducing "What I Didn't Do Today." This is where you can come to laugh and cry about the disasters in life that we all face - and gain a little perspective too.
You can comment with your "What I Didn't Do...", or write your own post and link back here.
So ladies, let's start the discussion - what DIDN'T you do today?